Unwanted noise can cause many issues, from difficulty falling asleep, poor sound in your movie room, and nuisance noise from outside. Regardless if you live in an apartment or house in a neighborhood where you are near to your neighbors, you're bound to hear noises more than you want to. That's where soundproof curtains come in.
Using the best soundproof curtains can reduce the noise that you hear from outside your home. To be upfront with you, the term "soundproof curtains" is really a misnomer. The technical name is "acoustic curtains" or "noise reduction curtains." Voices, music, noise from cars, or just general street noise can be improved by using these curtains.
In addition to noise reduction, the best acoustic curtains also have thermal and blackout qualities. For anyone looking to add ambiance to a movie room, or for help falling and staying asleep – noise reducing curtains could be the answer you've been searching for.
"Soundproof" Curtains – Do they Really Reduce Noise?
Although they are often called soundproof curtains, Acoustical Surfaces, Inc., a manufacturer of soundproofing and acoustical products, says they're "sound absorbing drapery primarily designed to absorb more sound than standard decorative curtains."
So, if you are expecting to completely soundproof a room, as in block out most of the sound coming into or exiting a room, then these curtains won't do that job. But, if you are trying to muffle nuisance sounds from outside, or reduce echoes in your home or office, the best noise reduction curtains can definitely help.
How Noise Reducing Curtains Work
Soundproofing curtains go by many names like;  Acoustic Drapes, Acoustic Curtains, Soundproof Blankets, Sound Blankets, Sound Screens, Acoustic Barriers, Acoustic Drapes, Acoustic Screens. These names more accurately describe what the curtains do. Made with sound-absorbing materials, the curtains absorb sound from inside the room as it reflects off the glass window and walls, and they also muffle sound as it comes in from outside the window.
According to the IQS Directory, acoustic curtains have shown to reduce the transmission of sound by up to 29db. Your mileage may vary based on the quality of materials used and your specific application. The reduction in noise is useful in many locations, like theaters, churches, offices, and even as an enclosure for loud industrial machinery.
Acoustical curtains are made with a variety of materials depending on where they will be used and which manufacturer makes them.
"Layers of multiple or a single material are sewn together, often with weights at the bottom hem to resist movement that might allow for noise to escape. Quilted designs are often used to reinforce the materials, making the panels between one and four inches thick. Common materials include flexible mass loaded vinyl, polyvinylchloride, wool, suede, fiberglass composites and aluminized fabric." – IQS Directory
Thick, heavyweight materials work best because density is a key factor for effective acoustic window treatments.
Industrial Soundproofing Curtains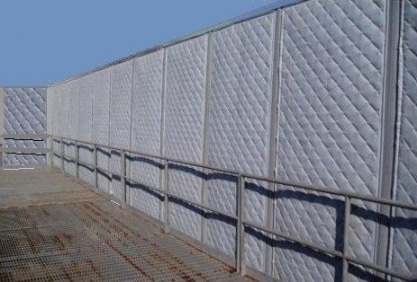 In an industrial setting, having visually appealing curtains is not as important, so the curtains end up looking like more like a quilt or blanket. One advantage of this is they can be built with better and heavier materials to achieve maximum noise-absorbing performance.
Mass loaded vinyl and PVC coated fabrics are commonly used in this type of product. These heavy-duty curtains can form an effective sound screen which can then be positioned around loud pieces of equipment, or in entire zones within the building.
One example is at urban construction sites, where many people may be living nearby and bothered by the noise of cranes, backhoes, and trucks.  If the site perimeter is covered with soundproof curtains, it can greatly reduce the noise reaching the nearby residents. Industrial sound curtains can also be used in manufacturing plants.
Installing a sound screen around loud equipment like pumps, generators, compressors, and vacuums will make the work environment more tolerable for employees.
How Soundproof Curtains Can (and Can't) Help
Soundproof curtains offer several benefits for your home or office that you can appreciate, however, there are a few things to consider before you buy them. They are used for decoration as well as functionality the world over in public or private buildings. If you aren't sure if they are for you, then it's important to look at both the pros and cons before installing them in your home.
Advantages
They reduce exterior and interior sound transmission and reverberation.
They provide a thermal barrier keeping heat or air conditioning inside.
They provide a partial light barrier which is good for sleeping.
Soundproof curtains are fashionable for any style of décor.
Drawbacks
The curtains are heavy due to materials and density, so you need strong curtain rods or holders.
They can make a room too dark during the day unless you open them.
10 Best Soundproofing Curtains for Noise Reduction
Finding the right window treatments for your home or office can be frustrating. So, it helps if you have a good idea in your mind of what you want before you start to shop.
Since having noise reduction curtains is very popular, there is a lot of variety in size, style, and color. With your measurements in hand and a good sense of what you want and need in your mind, you can narrow down the choices more easily.
Remember that because these curtains use a lot of materials, they may not be as cheap as you expect. But, once you find the right acoustic curtains, they will last for a long time, a real investment in your home.
1. Rose Home Fashion Blackout Patio Drape
Although this curtain is called a patio drape, the Rose Home Fashion curtain is manufactured for indoor use only. Do not use it outside. The price is very reasonable, and the 100-percent polyester curtain has an excellent rating from customers who own them.
The curtains are made using heavy, multi-layered micro-fiber materials. You have a choice of ten colors and six sizes in all. The curtains come in single-panel sets that are ready to hang from their antique bronze grommet top.
The Rose Home Fashion is thermal-insulated in order to keep heat and cold outside on your patio throughout the year and have a blackout effect that significantly reduces light penetration. The darker colors work better to reduce light. In fact, the dark gray color has a 94-percent blackout effect.
Rose Home says that they can be hung from a standard rod, but check durability and weight limits before hanging. The curtains can be machine-washed and -dried.
---
2. Utopia Bedding Blackout Drapes
The Utopia Bedding Blackout Drapes come in two sizes and each set includes a pair of drapes and tie-backs for them. These curtains come in the loop and rod-pocket style top.
Made of soft 250 GSM polyester fabric, these curtains feature thermal insulation for heat or cold and thick quality curtains that absorb 99 percent of the light and UV-rays passing through your window. They also filter out about 60 percent of the outside noise from entering the room.
They are designed to fit standard curtain rods, however, make sure your rods can hold the full weight before you install them. Each curtain comes with seven hooks.
Utopia drapes can be machine-washed in cold water, and tumbled dry on a low setting. They are quite inexpensive and are available in seven colors. They also have a lot of excellent reviews.
---
3. NICETOWN Noise Reducing Patio Drapes
The NICETOWN noise-reducing drapes are also reasonably priced in line with the pricing of the previous curtains. They are available in 18 colors and six sizes. Designed for patio sliding doors, they are made of soft and heavy innovative triple-weave polyester fabric in the front and back sides.
The top has 14 silver grommets for easy hanging and a modern style. They block out most of the light and harmful UV rays of the sun. They are thermally insulated, helping to keep in heat and air conditioning wherever you hang them.
The NICETOWN curtains are noise reducing and privacy-protecting, keeping people from seeing inside your windows. Because they block much of the sun's rays, they also keep your furniture, artwork, and carpeting from fading over time, saving you money on replacements and HVAC.
They come ready to hang to cover any sliding door, patio door or large window, and you can hang them with sheer curtains for when you do want the light inside. These acoustic curtains can be machine-washed in temperatures below 86 degrees F using a mild detergent and no bleach.
These drapes have a high rating from previous customers, and the beige colored ones have about an 85 percent blackout effect. Darker colors generally have a higher percentage blackout effect.
---
4. Yakamok Light Blocking Drapes
The Yakamok Light Blocking Drapes come in five sizes and eight colors. You get two panels that each have eight silver-toned grommets on each panel, making them easy to hang.
Yakamok calls them "magic blackout" curtains that claims to block nearly 100 percent of the light. According to numerous customer reviews, all the colors block out the light effectively. They are constructed with two layers of fabric to achieve that effect.
The curtain fabric is made from high-quality triple-weave polyester with a black liner, and they also black harmful UV rays keeping your room decor and carpeting from fading over time. They also give you more privacy, because people can't see inside your house.
The curtain's fabric construction also reduces outside noise, and Yakamok claims that they are twice as good as any single-layer curtains. Since no single-layer curtains are made to be acoustic, that claim is probably true for all the best soundproof curtains. However, they do an excellent job blocking daylight and absorbing sound, so that people can easily sleep during the day.
The drapes have thermal qualities keeping in heat and air conditioning, saving you money on your HVAC bill. They are non-toxic, environmentally safe, and machine washable in cold water with a mild detergent. The Yakamok curtains are a little higher in price than the previous curtains we have reviewed, but they do offer the 100 percent blackout.
---
5. Deconovo Solid Noise Reducing Curtains
The Deconovo Solid Noise Reducing Curtains are priced comparably with the Yakamok drapes above. The curtains come in 11 sizes and five colors all in neutral shades such as gray, beige and white. They are also made of 100 percent high-quality polyester fabric with two panels per set.
Each panel has six silver grommets for hanging. These curtains achieve a blackout effect using a white coating on the back layer which blocks out most of the sunlight and harmful UV rays from the sun. They efficiently insulate heat and cold, helping you maintain a pleasant temperature in your home and saving you money on your HVAC bills. They also reduce noise and offer privacy from curious neighbors.
These curtains must be hand-washed in water below 86 degrees F without bleach. If you don't want to hand-wash these curtains, then these aren't the curtains for you. Pricing is reasonable, a bit less than the last curtains reviewed.
---
6. NICETOWN Insulated Soundproof Curtains
These NICETOWN Insulated Soundproof Curtains come in six sizes and a wide array of 17 colors. They are priced very reasonably, and some sizes have discounts available when you purchase. Each package has a single curtain panel, but some of them are very wide.
These curtains have matte silver grommets, making the curtains easy to hang and slide. They are modern and simple in style, particularly suitable to the decoration of your sitting room, bedroom, dining room, study, nursery, kitchen or hallway. They have 100 percent heavy-duty polyester fabric woven with a three-layer construction including a middle layer with 85- to 99-percent light blocking material. The darker colors are more successful at blocking out light.
In addition to blocking light, these soundproof curtains also block harmful UV rays from fading your floors and furniture and increase the energy efficiency of your home which saves money on HVAC bills. They claim to absorb twice as much sound as ordinary curtains, but don't say what percentage that is.
These NICETOWN curtains are machine washable with temperatures below 86 degrees F using a mild detergent without bleach. They have a 30-day money-back guarantee, but suggest measuring carefully before ordering. Since they have the guarantee, you can test their noise reduction in your home.
---
7. H.VERSAILTEX Acoustic Window Drapes
Similar to all the curtains on this page, the H. VERSAILTEX Acoustic Window Drapes are reasonably priced and come in a two-panel set. There are five sizes available and 24 colors. Made of 100 percent polyester with eight metal grommets, these acoustic curtains block out 95 percent sunlight and 100 percent of harmful UV rays.
They are vinyl-free and environmentally-safe for a child's bedroom or any other room in your house. They use innovative technology and highly-durable yarn to achieve high-performance ratings on room darkening, thermal insulation, noise reduction, and energy efficiency. The drapes also offer privacy from nosy neighbors.
They are designed in a classic style that mixes well with contemporary, traditional, rustic, retro and Victorian decor and have excellent ratings from previous customers. These curtains come with a 10-year warranty and 30-day money-back guarantee. They are machine-washable with non-chlorine bleach and can be tumbled dry on a low setting.
---
8. AmazonBasics Noise Reducing Curtains
These AmazonBasics Noise Reducing Curtains come in six sizes and nine colors. They come in a two-panel pack with Velcro tie-backs, and one size comes in a four-panel pack for even better pricing. Made with 100 percent polyester fabric, these room-darkening curtains help keep a bedroom exceptionally dark, due to an innovative triple-weave fabric.
In addition to promoting better sleeping conditions, the curtain ensures complete privacy and helps reduce outside noise for a quieter indoor environment. They have a thermal-insulating barrier to improve the efficiency of your HVAC and save money on energy bills, keeping your room cooler in the summer and warmer in the winter.
The AmazonBasics curtains have a rod pocket that fits any standard-size rod and comes with certification for high safety and environmental standards. They are machine-washable and tumble dry, and they have a note that colors might not match what you see on the screen, depending on how much light comes into the room. They have mixed ratings from previous customers, some five-star and others one-star which you can read to determine what you think.
---
9. Deconovo Foil Print Noise Reduction Curtain
The Deconovo Foil Print Noise Reduction Curtains are available in 14 sizes and 10 colors all in a foil-printed wavy-striped pattern which makes them different from all the previous curtains on this page.
Made from high-quality polyester fabric, they have six stainless steel grommets making them easy to hang. These curtains can block most sunlight and UV rays from your home interior, and look great in any room in your home.
They offer complete privacy from anyone looking inside your windows, and the thermal insulation to save on your heating and cooling bills. They also reduce noise from outside your home. Amazon recommends hand-washing in water below 86 degrees F, and no fabric softener, bleach or tumble-drying. These soundproof drapes have a five-star rating from previous customers.
---
10. Bgment Blackout Curtains
The Bgment Blackout Curtains come in 10 sizes and wide range of 29 colors. Also reasonably priced, these light-blocking curtains are made of innovative triple-weaved microfiber fabric. The package contains two panels with tiebacks and eight silver grommets on the top, making them easy to hang.
They can block out 85 percent to 99 percent of sunlight and UV rays. The darker colors are more effective. The Bgment curtains are thermal insulated, and therefore help with HVAC bills and keeping temperatures constant indoors.
They also reduce outside noise and protect your floor and upholstery from fading over time. Machine-wash them in a gentle cycle and cold water, and don't bleach them. You can tumble them dry on a low-temperature setting. They are highly rated by previous customers.
---
Selecting Your Soundproofing Curtains
Before you shop, you need to gather some information about your windows and think about the style that fits in your room's decorating theme. It's crucial to gather proper measurements because the wrong size curtains won't look right on your windows.
Think carefully about how you want them to look and enhance the colors of the room. Decide on which features you really want besides the acoustic features. Do you need blackout curtains in addition to noise reduction? Or is the thermal quality more important to you? Here are all the criteria you should consider before you order your curtains.
1. Measure Your Windows for Proper Curtain Size
Window measurements will ensure that your curtains are the right size. So here are the steps to take to measure for curtains:
Determine whether you are mounting the curtains inside or outside the window frame.
Decide whether your curtain rod will be inside trim mount, outside trim mount or above trim mount.
Determine the length of the curtain rod (typically 3- to 6-inches longer than the window).
Select a length above the sill, below the sill or floor length.
Measure for curtain width, typically about 1 1/2- to 3-times the final width measurement of your window.
Measure for curtain length, the distance from the rod pocket to the very bottom of the panel.
2. Choose the Thickest, Densest Material Possible
Thick, dense materials do the most work in the best soundproof curtains. This acoustic core is used to improve the acoustics inside a room, using sound-absorbing materials to dampen the echo caused by hard surfaces reflecting sounds.
These materials work wonders for reducing noise within a space in which sound echoes. Soundproof curtains are made for industrial-level soundproofing. But for your home or office, the sound you are muffling isn't as loud as in a factory.
Some residential soundproof curtains are made using naturally fire-resistant wool fabric that is sandwiched between a decorative fabric and a blackout liner. Curtain manufacturers can give you the exact specifications on how they make their curtains.
3. Choose Your Favorite Style
There are lots of great styles that will match almost any home décor. You can select the fabric you prefer as well as the color and pattern in the fabric.
Like standard curtains, acoustic curtains come in a variety of styles which include grommets, tab tops, pleated with hooks, rod pocket with hook and loop and other mount styles.
Tiebacks and fringe can be added. However, it's important to remember that these curtains are heavier than standard ones, requiring strong mount connectors and rods.
4. Don't Forget the Hardware
Your new heavy curtains will require heavy-duty rods and hardware to support the extra weight. Don't cheap out on this step. Since the curtains are made with several layers of fabrics and other materials, you can't just buy the cheapest curtain rod and expect them to hold them.
If your curtain rod isn't sturdy enough, the weight of the curtains will pull the fasteners out of the wall, requiring wall repair as well as a new curtain rod. Many acoustic curtain sellers will have heavy-duty rods for sale, too.
Curtains Up! Which Drapes Should You Choose?
All the reviewed curtains are reasonably priced, so really if you're on a tight budget, choose the size and color you need and compare them. It's pretty tough to separate our Top 10 by quality because the ratings are high from most customers, but our overall top recommendations are the Rose Home Drapes and Utopia Bedding Blackout Drapes. And as one final friendly reminder, please do purchase a heavy-duty curtain rod to support these heavyweight noise reducing curtains!
*Last updated 2023-12-10 at 22:26 / Product Links & Images from Amazon Product Advertising API