The benefits of a quiet room are well established. Peace and quiet greatly enhance the productivity of your work and sleep.
As a homeowner, what can you do to ensure your room has the soundproofing qualities needed to be your best?
A good place to start is your doors.
Hollow core interior doors are often the biggest source of noise infiltration into most rooms in a home. They lack the mass needed to absorb sound.
This article will guide you through the various options you have to upgrade to the best soundproof doors for your bedroom or home interior.
STC for Soundproof Doors & Your Needs
Before searching for a new door, you should know how much sound you are trying to block.
Use a decibel meter, or an app on your phone (less accurate) to determine the dB at the source. Then look at the dB chart to see what level of sound you want to achieve in the receiving room.
Subtract the two and you'll get a target STC rating for your new soundproof door.
[Chart of dB levels]
Below is a table showing the expected STC ratings for different types of doors.
[Table placeholder. Hollow, Solid Core, Solid Wood, Acoustic]
Best Interior Doors for Soundproofing
In this list, we've outlined the Top 10 options you have for soundproof interior doors.
The first three can be ordered at your favorite big box home improvement store.
The rest are specialized doors, you may need to work with a distributor or contractor to purchase and install these doors.
1. Solid Wood Slab Doors – Best for Bedrooms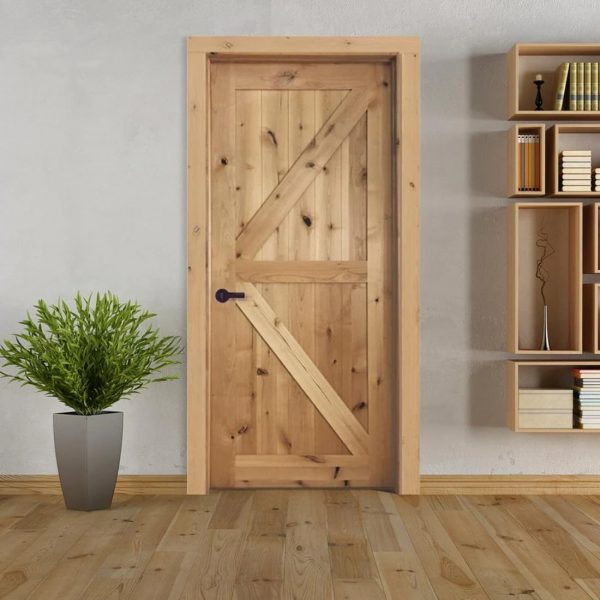 If you were to ask homeowners which single door they would love a solid wood, the betting money is the master bedroom. A home office will be another popular answer with the rise in Work from Home. For privacy, peace, and quiet it's hard to beat a solid wood door!
Overall, solid wood is good at soundproofing because it's porous, which means that it has air pockets that can help trap sound. This is one of the reasons that solid wood was the door material of choice for hundreds of years.
Solid wood also has the benefit of being warm and lovely in its appearance. You can't go wrong with solid wood doors for your home's interior, whether your home is contemporary or classic.
Wooden doors come in a range of styles and finishes, so you can choose the color that appeals to you.
Unique grain markings make each door unique.
Wood can easily be painted or stained, to match the interior of your home.
Solid wood adds a touch of class anywhere in the home, especially the master bedroom and home office. See some examples of solid wood doors at Home Depot.
---
2. Solid Core Doors – Most Economical
Solid core doors look so like solid wood that it's sometimes hard to tell the difference. Solid core doors may have a wood veneer on the outside, and a solid core that traps sound.
The advantage of solid core doors is the cost – they're more economical than solid wood but give good performance.
Each door varies by weight, but a typical weight for a solid core door is about 55 pounds – versus around 60 for a solid wood door.
Most solid core doors are easy to paint.
Many solid core doors are indistinguishable from solid wood, but for a much lower cost than wood.
Weighty doors add value to the house without breaking the bank.
See some examples of solid core doors here.
---
3. Masonite Acoustical Performance Doors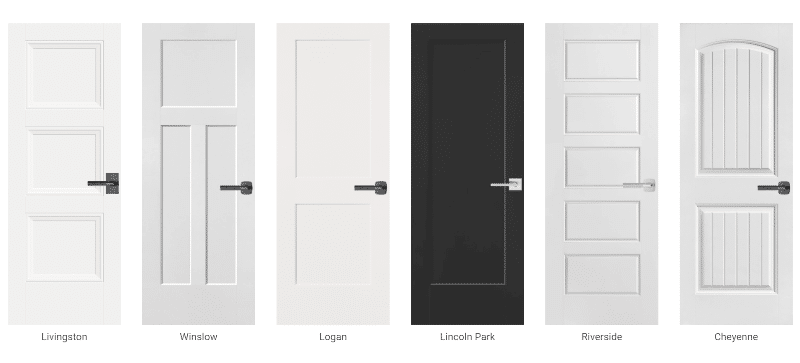 Masonite Acoustical Performance "High STC" doors go above and beyond what you can pick up at big box home improvement stores.
They're specially engineered to bring the STC up to professional levels and contain about 70% more sound dampening material than hollow core doors.
These high-performance doors come in many styles and can be made from a variety of materials, depending on which model you're purchasing.
Some use particleboards for their sound-dampening material, while others have a mineral or engineered wood core. Masonite doors are made specifically for sound control, so that's what they're good at.
These doors are suitable for use in all parts of the house.
They come in a range of classic and contemporary styles.
Their highly durable construction can withstand everyday wear and tear.
---
High STC Interior Doors
These "High STC" doors go above and beyond what you can pick up at big box home improvement stores. They are specially engineered to raise the STC up to professional levels.
4. SecondSkin Audio Sound Lock Door
SecondSkin Audio Sound Lock Door is a heavy, 350-pound door with an STC rating of up to 56.
With a real oak veneer door and a high-performance soundproofed interior, this door is ready to stain or paint.
It looks like a wooden door but performs like a high-performance STC door. SecondSkin Audio Sound Lock doors come pre-hung with adjustable soundproof jambs, so they're easy to install and fit to your home.
At around $4,000 base cost, this door is considered an economical high-quality exterior soundproof door.
This 3-inch thick, 350-pound door has a solidity that makes it perfect for exterior use.
Install this door to keep out noise from traffic, neighbors, and passing aircraft.
---
5. Acoustical Surfaces Studio 3D
Acoustical Surfaces offers an affordable interior soundproof door with an STC value of 56. It's dubbed the "Studio 3D" and is an excellent choice for home offices, home studios, and especially settings like hotels and conference rooms.
They are higher end doors but don't be afraid to consider them in residential settings when needed. Studio 3D soundproof doors are ready to paint or stain to match your building's interior. Customers who need a custom finish or specialized hardware can make this request.
This door comes pre-hung and assembled for fast installation.
Each Studio 3D soundproof door comes with a 3-point latching system.
Acoustical Surfaces will engineer special frame profiles as needed.
---
6. Republic Door DE Series
The DE-STC acoustical doors from Republic Doors are designed to cut back sounds in populated urban areas, where noise from street traffic, highways, airports, railroads and more can cause disruption in hotel rooms, apartments, houses, and more.
These doors are created using a proprietary core material. With a profile of 1 and 3/4″ inches, this door is notably lightweight.
Republic DE series doors use approximately 25% less door weight than comparable products on the market, with a result of less weight.
DE series doors are used in commercial and residential spaces for sound control.
DE series doors have an STC rating of 52.
---
7. Oshkosh Door Acoustical Doors
Oshkosh Door acoustical doors have the natural beauty of wood with the performance of a high STC door.
With STC ratings from 31 through 48, Oshkosh doors can muffle or silence voices, muffle loud sounds like loud music, and contain the everyday noises that can disrupt meetings, naps, conferences, and more.
Oshkosh doors also have a classic beauty that makes them perfect in hotels, state capitols government buildings, schools, and more.
With a natural wood look, these doors are ready to stain or paint as needed.
These doors come in a range of STC ratings so you can choose the level of protection that you need.
---
8. Fleming Door Whisper Core
Whisper Core Door Systems are typically used in airports, government and military buildings, school band rooms, and conference halls to reduce or eliminate sound problems.
Similar to the Oshkosh Acoustic Doors, the Fleming Door Whisper Core products come in a range of STC ratings.
Doors with lower STC help control the cost and weight when a lower STC rating is needed. Fleming Doors come in a variety of wood finishes to match the interior architectural style of the building where they are installed.
Higher STC ratings may require a custom frame to accommodate the acoustic control.
Doors come available in a variety of finishes or can be painted, according to the needs of the customer.
Fleming Door Whisper Core models are a common choice for band room doorways.
---
9. Curries 757 QUiet Noise+ (Metal Interior)
The Curries 757 Quiet Noise+ with metal interior comes with a range of STC ratings to allow clients to choose the rating that best meets their needs.
For less demanding applications, lower STC ratings are recommended. Each wood door is available in a range of wood types and finishes, to match your building's interior style.
Soundproof metal door suitable for garage or workshop doors.
Doors can be painted or stained as needed.
Doors with lower STC ratings are available, to help control costs.
---
10. IsoStore Sound Control Doors
IsoStore Sound Control doors are custom-built for each order, to ensure a perfect fit in the doorway where it's installed.
IsoStore Sound Control Doors are quite expensive for interior doors, but with an STC rating of up to 63, these doors provide serious sound protection for the right customer.
They point out on their website that their doors are sold directly from the manufacturer to the client, which can result in big savings given the quality of the door.
Sound Control Doors can be used in residential or commercial settings.
IsoStore doors come in a range of models, so you can choose the door that's right for your home or commercial building.
Most doors have a wooden exterior, so they can be easily painted or stained.
---
Preparing to Replace Interior & Bedroom Doors
When you're replacing a hollow-core door with a sound-blocking door, remember that the weight of the new door will be much greater than the original door. This difference is significant. It's particularly important to make sure the hinges, screws, and wall studs are up to the task.
If you're re-using old screw holes and hinges, be sure that the screw holes are a tight fight with the screws, and that the hinges can hold the weight of your soundproof door. When in doubt, replace old hinges with new ones or you may later be fixing an annoying squeaking door from the stress.
Soundproofing vs Replacing Your Existing Door
In some cases, replacing your old door may not be necessary. There are many things you can do to dampen the sound coming through a hollow-core door. Below are some steps you can take to reduce the amount of sound heard through your door:
Seal the Door Jamb – Install weatherstripping around the door to dampen the sound coming around the door between the door and jamb.
Seal Under the Door – Install a soundproof door sweep on the bottom of the door to seal the gap between the door and the floor.
Add Mass to the Door – Install sound-deadening fiberglass sheets, fiberboard mats, or mass-loaded vinyl to add mass to the door.
Hang Sound Barriers – Hang a blanket over the door to act as a sound barrier, preventing sound from coming into the room.
Want to know more about how you can soundproof an existing door? You don't need to hire a handyman to do it. Learn about the many things you can do to soundproof your interior and bedroom doors at home.