Acoustic diffusers are designed to scatter sound and reduce noise pollution evenly throughout a recording studio. Sound-absorbing panels can be helpful, but too many of them can create a "dead sound." Acoustic diffusers cut down on echo and flutter while still keeping your studio sounding big and lively.
A great way to save money is to make a diffuser yourself. Although these rely on accurate math to be effective, it's not excessively difficult to do, especially if you're a little bit handy. Here are 5 great DIY acoustic diffuser plans to do for a weekend project, as well as some ideas for diffusers you can purchase if you need to save more time than money.
What Type of Diffuser Do You Want?
First, it's important to understand what types of acoustic diffusers are available and what materials and tools you'll need to build them. The majority of these schematics require some degree of planning ahead so you don't end up halfway through the project before running into a problem you may not be able to solve.
Here are four different types of acoustic diffusers to consider, how each is made, and what makes one different from the other.
Binary Diffusers
A binary acoustic diffuser, which is also known as a binary amplitude diffuser, is a high-performing acoustic diffuser panel that provides sound insulation and reflection. Binary diffusers are typically used to improve indoor sound levels by combining both sound diffusion and absorption.
To specify where absorption and reflection patches ought to be located, this type of diffuser needs a two-dimensional binary pseudorandom array. This can be achieved by folding a one-dimensional mathematical sequence into a two-dimensional array with the Chinese Remainder Theorem.
Quadratic (QRD) Diffusers
Quadratic diffusers, or QRD diffusers, feature a succession of small troughs or wells of various depths. Sound waves enter the inside of these wells, bounce around, and return diffused, spread out 180-degrees like a fan. This results in a variety of phase changes that disperse transmitted sound.
These diffusers are utilized to reduce echoes in the listening environment, especially from back walls and first-reflection spots. Quadratic diffusers are built using calculations of prime numbers, each of which has a unique resonant frequency.
"Skyline" Diffusers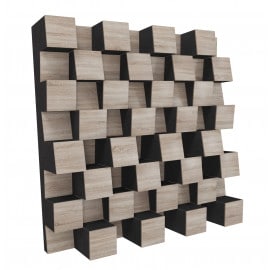 A Skyline diffuser is a specific brand of acoustic diffuser developed by RPG. As the music industry's first and arguably best omnidirectional true primitive root diffuser. Essentially, a Skyline is a one-dimensional acoustic diffuser flipped inside-out, which disperses sound both horizontally and vertically a full 360 degrees.
Solid wood is typically used in the construction of the Skyline diffuser, which makes an excellent material for the purpose but puts a great deal of weight on the structure it's attached to. You may be able to achieve the same benefits by building a one-dimensional diffuser and placing it in both the horizontal and vertical domains. This weighs less than a Skyline but offers similar function.
Wall Art Diffusers
An acoustic diffuser can be just as attractive as it is functional, especially when you make one yourself. Wall art diffusers are simply acoustic diffusers that have been designed with aesthetics in mind. These diffusers are able to effectively reduce noise pollution in the studio and look as unique and quirky as a piece of contemporary wall art.
Wall art diffusers can be painted or stained, large or small, framed, patterned, or random. There's a lot you can do creatively with a DIY acoustic diffuser, allowing you to make a one-of-a-kind statement piece found only in your studio or home. Whether you're a music professional or just like to play or sing as a hobby, a wall art diffuser is the perfect blend of purpose and style.
5 Plans for Building an Acoustic Diffuser
Building your own acoustic diffuser may seem intimidating or overwhelming, but it's a great way to not only save money but also to customize your acoustic sound diffuser to your exact specifications. For many recording artists, producers, and music enthusiasts, the process of building a sound diffuser is highly rewarding.
Here are some more great benefits of DIY acoustic diffusers:
Design a custom acoustic diffuser for your sound studio that no one else has
Reduced cost of building a recording studio from the ground up
Create a unique look for your space
Fine-tune the diffusion of audio to get exactly the results you want
Combine different types of diffusers for tailored sound
Thinking of building an acoustic diffuser? Crafting a diffuser yourself instead of purchasing one can save you a lot of money, especially if you have scrap wood available that can be cut down to fit your project.
These 5 schematics will help you plan out your project, get the right materials, measure and cut accurately, and complete a beautiful and functional diffuser for your recording studio.
1. Pine Quadratic Diffuser by True Sound Studios
The Pine Quadratic Diffuser by True Sound Studios is a moderately difficult project with an excellent final result. This diffuser is ideal for spaces where you want the piece to stretch across most of the back wall for maximum sound diffusion.
You can paint the wood boards or leave them naturally, however, True Sound Studios recommends that if you choose to paint, do so before you put the boards together. Painting afterwards is much harder since you have to get your brush into the tiny crevices. There's really no way to prevent paint from glopping up inside the diffuser, potentially altering the efficacy of the piece and its ability to produce quality sound.
Although the Pine Quadratic Diffuser works very well for its intended purpose, it's arguably the least aesthetically pleasing on this list. If painted white, it gives vinyl siding vibes, which can look cheap and poorly made even if put together perfectly. Try finishing the natural wood with a thin coat of water-based polyurethane varnish or painting a darker color.
Materials Needed
2 – 8-ft. long 1 x 6 pine
1 – 1/4-in. thick 4 x 8 Luan underlayment sheet, cut into 4-ft. x 5.5-in.
9 – 8-ft. long 1 x 2 pine
Approximately 1.5 yards of black fabric
Wood screws
Power screwdriver, saw, sander, staple gun
Sandpaper, Measuring tape, Level
Paint or wood stain, optional
Water-based polyurethane finish
---
2. Plywood Binary Diffuser by John Heisz
The Plywood Binary Diffuser is a different kind of acoustic diffuser that doesn't use well depths to scatter sound but instead uses holes. These dampen some of the sound while allowing the rest to come through, improving your studio's overall sound quality.
You can make these any size you want simply by using a larger or smaller panel and more or fewer holes. The holes are placed at random, so there's not a whole lot of calculation that goes into this project either, making it easier for beginners.
This is one of the easiest diffusers to make on this list and is ideal for covering expansive spaces. You can put these on the entire back wall of a room to customize your sound to your exact specifications. Although not as aesthetically pleasing or artistic as some of the other options on the list, it comes together faster and takes much less time to create.
Materials Needed
1 – 24-in x 28-in plywood
Approximately 1.5 yards of black fabric
Metal washers larger than the holes you will be drilling
Power saw, drill, sander, staple gun
Sandpaper, measuring tape
Wood screws, wood glue or construction adhesive
Paint or wood stain, optional
Water-based polyurethane finish
---
3. Wood Quadratic Diffuser by Rooster's Recording
The Wood Quadratic Diffuser by Rooster's Recording is both easy to make and extremely effective at scattering sound and improving sound quality throughout any space. Needing only nails and wood glue or construction adhesive to put together, this model of diffuser can realistically be crafted by almost anyone, regardless of woodworking skill.
Sanding and painting the boards before you put them together can make this project easier and look more finished when it's complete. However, it's not necessary for the piece to work well. This piece is solid wood but can either be mounted on the back wall or ceiling of a studio or listening room. It features a relatively simple design that can be used in both classic and contemporary decor. Watch the video here.
Materials Needed
16 – 6-ft. x 1-in. x 4-in. wood boards,

15 cut to 41.5-in. each
1 cut to fit the ending measurement of the top and bottom of the diffuser

7 – 6-ft. x 1-in. x 4-in. wood boards, cut to 41.5-in. each
Wood glue & clamps
Power saw, Nail gun, Nails
Power sander, Sandpaper
Measuring tape
Paint or wood stain, optional
Water-based polyurethane finish
---
4. Skyline Diffuser by I Build It
The Skyline acoustic diffuser offers a classic look that works well in studios both large and small. Although this piece is heavy, being made of solid wood, it's durable and long-lasting. The wide variety of well depths do an excellent job of scattering sound, making your room or studio sound robust and spacious.
It's one of the more difficult to make on this list but is arguably the least expensive. The small blocks are relatively inexpensive from the store, and materials are even cheaper if you are able to use scrap wood from another project. There is a great deal of sanding involved in this project if you want the end result to look smooth and well-finished, but the extra time is worth the end result.
Materials Needed
Multiple lengths of 1.5-in x 1.5-in. wood depending on the size you want the finished diffuser to be
Wood glue or construction adhesive
Power saw, sander
Wood clamps, Sandpaper, Measuring tape
Paint or wood stain, optional
Water-based polyurethane finish
---
5. Diffuser Wall Art by TMPK
If aesthetics are as important as sound quality, or even more so, the Wood Sound Diffuser Art panel by Jared Turner is a moderately difficult but absolutely stunning option. The finished product is as much wall art as it is a diffuser, giving any studio or listening room both a visual and functional upgrade.
It may not diffuse sound as well as the other DIY acoustic diffusers on this list. However, it's easily the most attractive option. You can paint the panel if you're using scrap or lower quality plywood, or if you're using better quality materials, you can leave it looking natural and just add a coat or two of clear varnish to seal the wood and protect it from moisture.
Materials Needed
Multiple lengths of 3/4-in. x 3.5-in. x 2-ft. wood depending on the size you want the finished diffuser to be
Power saw, nail gun, power sander
Wood clamps, measuring tape
Wood glue, Nails, Sandpaper
Paint or wood stain, optional
Water-based polyurethane finish
Where to Place Your New Diffusers
Acoustic diffusers, unlike acoustic foam panels, are meant to disperse sound waves rather than absorb them at various wavelengths. To get the ideal sound in your environment, acoustic diffusers are frequently used in conjunction with sound absorption panels and bass traps. Acoustic foam panels put on the side walls are used to lower reverb time, while bass traps are placed in the upper corners of the room to eliminate standing waves and reduce low-end frequencies.
Generally, acoustic diffusers are positioned at the reflecting points of any given room. Usually, this includes one diffuser on the back wall and another on the ceiling in between the sound source and the listening position. These disperse the first reflections coming from the sound system's monitors.
Best Acoustic Diffusers You Can Buy
Don't think you can handle building any of these diffusers? Or do you simply want to save time and get your sound studio up and running as quickly as possible? There are some great options you can buy directly off the shelf and integrate into your studio project.
Although DIY projects can save you money, it may benefit you more to purchase a finished acoustic diffuser instead of making it yourself, especially if you don't have adequate space for woodworking or have little to no experience.
Here are 3 recommended acoustic diffusers you can find at your local music studio or order online:
ATS Acoustics QRD Diffuser
ATS Acoustic Diffuser 23 x 23
7 well quadratic residue diffuser (QRD) design.
Precision manufactured in the USA using computer-controlled equipment for extreme accuracy.
Begins scattering at 325 Hz and offers effective diffusion up through 3 kHz.
The ATS Acoustic Diffuser is a solid wood square or rectangular panel with a number of wells at different depths stretched lengthwise across the frame. The diffuser is designed to reduce flutter echo and comb filtering without dampening the sound so much that it reduces its quality.
7-root wells
Begins dispersing sound at 325 Hz and maxes out at 3 kHz
Available in 23-in x 23-in x 6.5-in or 23-in x 48-in x 6.5-in sizes
This model is available in two shapes and sizes, making it easy to mix and match sizes and the number of panels to fit your unique space. You can paint this diffuser or leave it looking natural, depending on what looks best in your studio, auditorium, or listening room. Combine with absorption panels for a custom sound.
---
BXI QRD Sound Diffuser
The BXI QRD Sound Diffuser is a solid wood residue diffuser with an impressive effective frequency range. The variety of well depths in this model helps to rearrange sound reflections, thereby evening out and improving sound quality, even in small rooms or studios.
24-in x 24-in x 4.8-in
4 sq. ft. of coverage
9.3 lbs.
Disperses sound at wavelengths between 410Hz and 24571Hz
This model is unfinished, allowing you to paint and varnish it or finish with a clear coat only. This allows for more design customizability than models that only allow for a few color options. You will need to be at least a little handy if you want this piece to look its best, but that said, it's functional right out of the box.
---
UA Acoustics Studio Acoustic Diffuser
The UA Acoustics Studio Acoustic Diffuser is a uniquely crafted, lighter-weight diffuser than similar options made of solid wood. It consists of laminated MDF plywood and acoustic foam to scatter and dampen sound without causing a recording studio to sound dead. While not quite as sensitive to lower frequencies as other models of diffusers, it continues to scatter wavelengths over 4000Hz.
20-in x 20-in x 4.73-in
2.2 lbs
Scatters sound at wavelengths between 786Hz and 24571Hz
Its smaller size allows it to be used even in tight spaces, or you can use multiple panels in larger rooms or studios. The Studio Acoustic Diffuser is available in 7 color options in neutral tones that can be coordinated with nearly any studio or listening room decor. For more styles check out their site here.
*Last updated 2023-12-11 at 00:18 / Product Links & Images from Amazon Product Advertising API