Look below your doors, see that giant gap between the door and the floor? Sound is going to flow through that location like water under a bridge. You need to get a noise stopper under the door to block that pathway.
Do door sweeps reduce noise? Yes, a door sweep can reduce noise coming in and going out of a room, by closing off one of the largest entry points in a room. The better the seal, the better the noise reduction you'll experience.
Types of Soundproof Door Sweeps
What types of things can you put under your door to stop the noise?
Door Draft Blockers
Door Sweeps
Automatic Door Bottoms
Threshold Seals
Door Draft Stopper – Sometimes called "door snakes" because of their tube-like appearance. While they can be used on any kind of flooring, door draft blockers work best on carpeted floors because they can both block sound against the carpeting, and still slide along with the door.
They can be attached to the bottom of the doors with adhesive tape, velcro, screws, or even magnets. While a double-sided door draft stopper simply slips under the door with the insulation on each side.
Silicone Door Sweep – A door sweep is a device securely mounted to the door that uses a soft rubber or silicone insert to wipe along the floor. The insert sweeps along the floor maintaining a noise blocking seal with the floor. Obviously, this type of door bottom seal works best on hard floor surfaces.
Automatic Door Bottom – Another great option for hard flooring is the automatic door bottom. This devices is just like a door sweep, but uses an internal mechanism to automatically move the seal down, compressing onto the floor when the door is closed.
Threshold Seal – This device is like heavy-duty weatherstripping for the bottom of the door. The threshold will have a significant lip with the weatherstrip seal on the face. The seal compresses tight to the door bottom when closed, creating a substantial seal to block out noise.
Top Under Door Noise Blockers
Here are 8 unique products that all function as under door noise stoppers. Each has its own attachment methods and is suitable for certain types of flooring.
1. Viseman Slip Under Twin Draft Stopper
When picking a standard door draft blocker, you can choose a single or a dual model. As a rule, dual models are better for two reasons:
First, you can simply slide the stopper under the door and remove it as necessary. With single models, you have to use an adhesive or something similar to ensure that it stays on correctly.
The second advantage of a dual door stopper is that you can block more sound since there are more layers. Overall, if you want something simple and reliable, this product from Viseman is an excellent option.
The only significant downside is that the stopper uses nylon and cotton, so it can wear down relatively fast if you use it on carpeting. Also, having a high-pile carpet may make it hard to open and close the door.
Key Features
---
2. Decorealm Under Door Draft Blocker
We've already seen what a double-sided door blocker can do. Now let's look at a single model for comparison. This product doesn't attach to the door, making it highly versatile and adaptable. When you're not using it, you can simply hang it from either side until you're ready for it again.
But, if the stopper doesn't stick to the door, how does it stay in place? The entire thing weighs about 3.5 pounds, so it should stay put pretty well. The only downside is that you have to move it back to the base of the door after opening it since the blocker won't move back into place.
Another advantage of having a single piece is that you don't have to worry as much about its length. If it's too long for your door, you shouldn't have to cut or repurpose it because it won't stay there permanently.
Key Features
Larger, more coverage than slip under draft blockers.
The heavy foam helps the stopper stay in place.
Hangers on both sides for easy storage.
---
3. MAXTID Hook & Loop Door Sweep
Although the Decorealm Door Stopper works well for individual uses, it can be kind of a pain to move into place every time you want a soundproof experience. A better alternative would be something like this Door Sweep from MAXTID.
This doro sweep uses hook and loop fasteners (like Velcro) to keep the foam in place. Then, if you need to take it off, you can easily remove it without removing the fastener strip.
Since this product uses foam with no cover, you can cut it to match your door frame exactly. You can also buy multiple sizes between 30 and 36 inches. This product works well on all floor types, from tile to carpet to hardwood.
Key Features
Multiple lengths & colors are available.
Uses hook and loop fasteners to attach to the door.
Cut the stopper to any length to fit your door.
---
4. Evelots Clip-On Door Draft Sweep
So far, we've seen door stoppers that don't attach to the door at all and ones that use Velcro to stay on. This set from Evelots is something of a mix between the two.
Instead of using adhesive to stick to the door, this product uses metal clips that fasten to the bottom. Then, you slip the metal rods into the sewn-in sleeves to keep the foam in place.
As with the Decorealm draft blocker, this model has a hanging end for easy storage. However, the primary advantage of this model is that you can open and close the door without having to reposition the foam every time.
Plus, since the metal clips are on both sides, you can move the foam to the inside or outside. Alternatively, you can buy the double set and get extra protection.
The main downside of this product is that it only comes in one size (36 inches), and you can't easily cut or reshape the foam. Also, the clips are fixed in size with no adjustment.
Key Features
Easy to remove and replace, no permanent fasteners.
Available as a single or double sweep model.
---
5. Suptikes Silicone Door Bottom
As we mentioned, silicone door stoppers are ideal for hardwood floors since they are more rigid than foam models. That said, you can set up this product for any flooring type, thanks to the flexible tips and waterproof adhesive.
What we like most about this door bottom is that it's easy to install. Just measure the door frame and cut off any excess material. The only extra step is to wipe down the door itself so that the adhesive bonds to the wood better.
Plus, because this stopper is so affordable, you can buy one for each side for additional soundproof protection. Also, the silicone is naturally waterproof, making this product great noise stoppers for exterior doors.
Key Features
Fits any door size, with simple, fast installation.
Soft and flexible silicone material
4 styles to fit your door and trim color scheme.
---
6. M-D Building Products Screw-On Silicone Sweep
Technically, a door sweep like this isn't meant to create a soundproof seal between the door and the floor. Instead, seals like this are designed to prevent dust (and pests) from getting in or out. That said, since this product forms a nice seal, it can work for both purposes.
Although this is a permanent installation, it's pretty easy to put the sweep on any wooden door. The main issue is that the rubber is pretty stiff, so it can leave scuff marks on concrete or laminate floors, and it will push away any mats or rugs every time you open the door.
Key Features
Commercial-grade door sweep with quality materials.
Relatively easy to install and semi-permanent.
---
7. Second Skin Audio – Sound Lock Automatic Door Bottom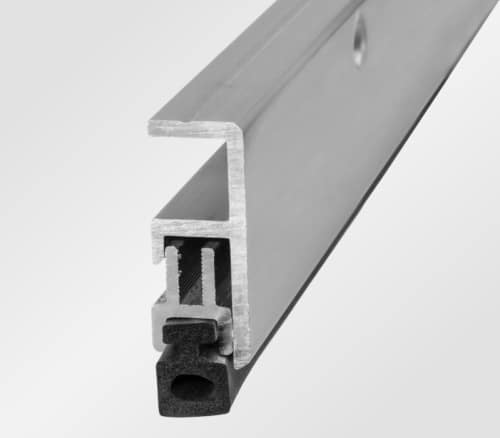 If you want to ensure that no sound comes through your door, the best option is to buy a door seal kit like this one from Second Skin Auto & Home Installation. This kit comes with two sides that fit into the door jambs and one piece that goes underneath the door.
What we like most about an automatic door bottom is that it allows the door to open and close easily while still preventing sound from getting in.
Best of all, the device is mechanical, meaning that you don't need a power source or anything for it to work. This particular product also fits uneven floors, making it even more desirable.
The main downside is that it can be tricky to install, and if you have to cut your materials shorter, you need a mechanical saw. Therefore, we recommend this option only if you're serious about soundproofing the room.
Key Features
The door bottom also comes with a complete door seal kit.
Mechanical device lowers the rubber gasket when the door is closed.
Easy open and easy close, without fighting against a sweep.
---
8. Acoustical Solutions Acoustic Door Threshold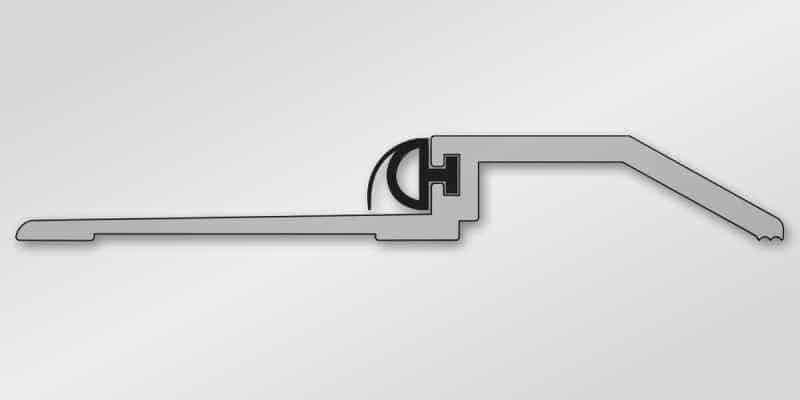 While a door bottom sound stopper can help reduce noise leakage, the superior solution is an acoustic door threshold, combined with a full door seal kit.
This threshold has a thick strip of rubber that compresses against the door bottom upon closing. As you can imagine, this kind of seal is much better than a basic foam and cloth draft stopper.
Key Features
Provides excellent soundproofing results, especially when used with a door seal kit.
Not recommended for rooms that require wheelchair access. Use an automatic door bottom in those locations.
---
Are Door Sweeps Enough?
When soundproofing your doors, a well selected under door noise blocker will have an immediate impact. However, it may not be enough!
Your door very likely has other gaps that can let noise inside. The easiest way to identify these gaps is to shut the door and shine a light from the other side. Anywhere the light penetrates is a spot where sound can also seep in.
Also, the type of door you're soundproofing matters. For example, a hollow wood door will not block noise like a solid wood model.
So, if you want to go the extra mile to ensure your door is as soundproof as possible, follow these steps:
Determine the Sound Entry Points – If you already have a solid wood door, you mostly have to worry about sealing the perimeter. However, if the door is hollow, you'll need to add mass in some other way to truly reduce noise.
Seal the Door Jamb – In addition to sealing under the door, you need to seal up any gaps along the sides and top of the door. You can buy rolls of weatherstripping or buy a specialized door sealing kit.
Add Mass to the Door – Once you've finished sealing the door edges, Use an app on your phone to test the dB levels coming through the door. If it's still too much, you need to add mass over the door itself. You can hang sound blankets, sheets of mass loaded vinyl, or attach a custom sheet of MDF with acoustic compound.
You can read all about these methods in more detail in our door soundproofing guide.
*Last updated 2023-09-23 at 10:44 / Product Links & Images from Amazon Product Advertising API