Dynamat is the king of automotive sound-deadening materials, a trusted name with the performance that comes with a high price tag. The good news? If you're on a budget, several other cheap Dynamat alternatives can give your car a luxurious feel, a quiet ride, and a killer sound.
However, too many options can make the buying process harder. Other automotive sound deadeners have different materials in their composition that may do more harm than good. This dilemma is why it's worthwhile to lay out all the details and compare which is right for you.
This guide will review the seven best Dynamat alternatives and how they compare to make your buying decision easier.
Dynamat Basics
There is a reason why Dynamat is one of the best soundproofing materials out there.
Dynamat Extreme is a sound deadening material made out of butyl rubber with aluminum alloy metal skin. It is for soundproofing cars to eliminate noise pollution, cut vibrations, and reduces buzzes and rattles from the vehicle. As the Dynamat stifles vibrations and road noise, it enhances stereo performance for crisp sound and better bass.
The product is also formulated with patented Vector Chemistry technology, making it the most effective sound control material. The patent makes Dynamat worth the money and hard to replicate because it has been useful for sound deadening.
The Dynamat is easy to cut and install. Both the aluminum and butyl rubber will contour and stretch without tearing while conforming easily to any surface.
Where to Use Car Sound Deadening Materials
Use the original Dynamat and sound deadeners in the following areas for best vehicle sound reduction:
Car Doors – Can be cut and fit anywhere behind doors. Bonus benefits include doors closing softer and quieter, improving acoustics quality inside the vehicle, and reduces street noise.
Floor – Ideal for reducing sound rattling and noise pollution from the outside, giving a smooth ride. The car floor conveys vibration from the engine and wheels and sound-deadening material such as Dynamat can solve that.
Trunk – Keep sound in without causing any rattling. It also can lower suspension, muffler, and wheel noises. Other sounds will reduce, and acoustics will sound more in-depth and better.
Roof – Good for keeping sound inside the car, enhancing the music and bass. Bonuses include better insulation, add vitality to the roof, and vibration dampening to make the interior quieter.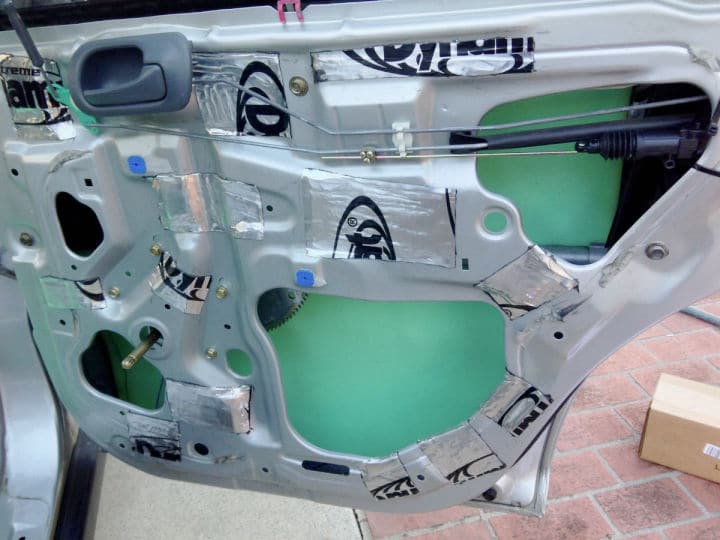 Before installing the Dynamat, you must clean the area thoroughly to remove any dust and dirt that may disturb the adhesive. Depending on your vehicle, you may have to cut the Dynamat sheet to fit your needs.
A roller routinely comes with the Dynamat packages, which smoothes the material to mold into the surface area.
If you want to take it one step further, use heat resistant Dynamat materials, such as:
Hood – Dynamat Hoodliner for reducing engine noise
Firewall – DynaPad for a heavy-duty heat barrier
Dynamat comes with other products suitable for any needs, even though the original design is excellent for soundproofing and heat resistance.
What to Be Looking For When Comparing to Dynamat
When you're shopping around for car sound mats, there are four things to keep in mind, including:
Thickness & Density – To put it simply, the thicker, the better sound deadening properties. Dynamat is typically 15 pounds in weight and .067' inches thick. The thickness is also measured in millimeters, meaning Dynamat is 67 mil.
Price per Square Foot – Dynamat is usually $5 per square foot, making it the most expensive on the market.
Temperature Resistance – Because of how hot a car can get, heat resistance is essential. Dynamat best performs at 14 to 140 degrees Fahrenheit and can withstand temperatures between -65 F and +300 F).
Cheap Fillers – You need authentic materials, such as butyl rubber or something substantial. Many alternatives tend to have asphalt, which is cheap and not desired.
In the market, you will find many materials comparable to Dynamat but lack certain qualities and material composition that make the product superior.
Various products will also combine with other materials to perform just as well but may produce the opposite effect or create a new problem, such as using asphalt as a cheap filler.
Overall, finding a suitable option that comes within your budget but can produce similar sound-deadening capabilities may be all you need.
7 Best Dynamat Alternatives
Here we will discuss the seven best options and how their features compare to Dynamat to make your choice easy.
1. Noico vs. Dynamat – Most Popular Alternative
The Noico sound deadening mats are similar to the Dynamat, as they are both butyl-based to reduce noise and vehicle rattle, all while improving the sound system's sound quality.
The Noico 80 mil is .080″ inches thick and weighs .7 lbs per square inch, and made of both butyl and foil, as opposed to just butyl rubber, like Dynamat. Because it's not full butyl rubber like the Dynamat, the sound reduction tends to be not quite as effective.
Noico is thicker than Dynamat, which is 67 mils thick, but more lightweight and more budget-friendly. However, it is not as soundproof as Dynamat and tends to have a rubber smell, which can be off-putting for some. The heat insulation is good, but not as good as Dynamat.
Noico 80 mil is the most popular Dynamat alternative because it is easy to install, works on most surfaces, and has a decent thickness and density. Dyanamat's material makeup gives it the edge, but Noico is a worthy choice too. Noico also does not contain any cheap fillers, like asphalt.
---
2. Kilmat vs. Dynamat – Runner Up
Kilmat is most similar to Noico. It is 80 mils thick, making it thicker than Dynamat that is 67 mils. One great aspect of Kilmat is that it's usually even cheaper than Noico, a cost effective and cheap Dynamat alternative.
Kilmat also weighs .5 lbs per square feet, making it more lightweight than Dynamat. However, it's $2 per square feet, yet it's about 10% less than Noico's price but less than half of Dynamat's $5 per square feet.
Compared to Dynamat, Kilmat's material is also butyl based as opposed to just butyl rubber. Also, Kilmat's backing is foil, while Dynamat's support is aluminum alloy.
A roller is not included with Kilmat, making it harder to install, while Dynamat comes with a roller for quick and easy installation. There have also been complaints of a rubbery smell, while Dynamat is mostly odor-less.
Even though Kilmat is thicker yet lighter, its material makeup is not as useful for soundproofing as Dynamat, but due to its price, it's a decent runner-up. Kilmat does not contain asphalt either, which is a plus for those who don't want cheap fillings.
---
3. Second Skin vs. Dynamat – Premium Alternative
Second Skin, like most alternatives, is butyl based with a foil inside its make up. It's most comparable to Dynamat, however, on the market due to its specifications.
Second Skin is much more expensive than other alternatives but cheaper than Dynamat. Second Skin impressively has a higher heat point than Dynamat and leads the industry, with a heat point of 450 F, while Dynamat is 300 F. Second Skin is also 80 mils nominal thickness, compared to Dynamat's 67 mils.
The material composition of Second Skin is considered a butyl compound with enhanced elastomeric properties, combined with a thick annealed foil. What makes Dynamat unique is its patient Vector chemistry technology, which many brands have not replicated with success.
Second Skin boasts a lifetime adhesion guarantee, while Dynamat is exceptionally sticky, which may or may not be a factor when buying the product.
Overall, Second Skin is considered a premium choice due to its price and exceptional features.
---
4. B-Quiet vs. Dynamat
B-Quiet is another butyl-based product, mixed with asphalt and a foil alloy outer skin with an adhesive. B-Quiet says its 100% butyl rubber with a foil outer layer, but the asphalt mixed into it is not ideal.
Most sheets tell at 18 square feet or 36 square feet, but B-Quiet sells 50 square feet all at once. The price tag for this is more costly than it should be. Per square foot, B-Quiet is 1.99, while Dynamat is $5 per square feet.
The temperature range for B-Quiet is also much lower than both Dynamat and alternatives. B-Quiet's heat resistance stops at 230 F, while Dynamat is 300, and other alternatives such as Second Skin can go as high as 450 F.
B-Quiet is also .33 lb per square feet, making it incredibly lightweight, but it's also 45 mils, making it less thick than most other comparable products.
Overall, this is not an impressive alternative, as there are better options out there with better density, material composition, and sound deadening capabilities.
---
5. Hushmat vs. Dynamat
Hushmat is an attractive entry-level sound and vibration deadener, as it has a kit to help with easy installation for beginners.
The Hushmat is lighter than Dyanamat, with butyl-based material composition. It's around the same price as alternatives, with $2 per square foot and considered lightweight. Because it is thinner than Dynamat, it's easier to cut, where Dynamat will require a bit more strength.
Hushmat's heat resistance is up there with Dynamat, as it can withstand up to 400 F. Hushmat Ultra boasts 550 F, which is their other line of products.
Hushmat boasts reducing sound by 15 decimals, and more depending on the type of Hushmat you buy, as Hushmat Ultra is more heavy-duty.
Depending on your needs, Hushmat can be an excellent choice. For minimal sound dampening, it's a decent alternative to the others. If you need something with more density, Hushmat leaves more to be desired.
---
6. Fatmat vs. Dynamat – Good Value
FatMat is a good value material, coming in at $2 per square foot with 80 mils thickness. FatMat comes with patented "Super-Stick" adhesive for easy installation. However, FatMat's classic product line is 50 mils, making that product thinner than Dynamat. The hottest selling Fat Mat is 80 mils thick, known as Rattletrap.
The installation kit from FatMat on Amazon, for instance, it's a bigger hit than other materials due to its density and value.
However, one huge drawback is that asphalt is in its material composition, even though it's in the adhesion part instead of its overall makeup. This adhesive may or may not produce a rubbery smell or melting with extreme temperatures.
The small amount of asphalt in the adhesion is why FatMat is recommended more for cold temperatures, not those with hot climates.
Overall, FatMat has several different products varying in thickness that comes as a good value that is easy to install.
---
7. Siless vs. Dynamat – Cheapest Dynamat Alternative
Siless is the cheapest option, coming in hot at 80 mils thickness with a butyl based blend, with no asphalt.
The most impressive aspect of Siless is its price. The Siless Vibro, in particular, comes in at $1.39 per square feet, which is unheard of for 80 mils thickness. It's also easy to install with its peel and place application.
Siless boasts of a new sound dampening formula named Bmastic, which rivals the Vector chemistry patent by Dynamat, giving its superior soundproofing abilities. The Bmastic is not as proven yet, so the claim may not have any validity, unlike Dynamat, which is proven.
However, with a different technology not found in the other alternatives, Siless comes in at a fantastic value for price-conscious people. Siless produced a cheap replacement without putting in any cheap fillers such as asphalt, which is also impressive.
---
Is Peel n Seal a Good Alternative?
To put this simply—no.
"Peel n Seal" needs to be avoided at all costs, where companies will say it's a cheap alternative for Dynamat. It's not ideal because it is an asphalt-based roofing product, which will bring forth a terrible, rubbery odor.
When asphalt heats up, past the temperatures it can withstand, it produces air pollution. This problem is not something you would want to have when you are inside your car as it heats up on a hot day.
Why would manufacturers do this? Adhesives are essential when installing any sound deadening sheet, as it plays a factor in the product's longevity. Some materials last longer than others, but some are not for this industry, which includes asphalt.
Some sound mats use asphalt mixed in the adhesive, but "Peel and Seal" is too much asphalt where you will notice if it gets incredibly hot, possibly creating a mess in your vehicle.
Wrapping Up: Which Dynamat Alternative has the Right Stuff?
Depending on your budget, what you're looking for, how effective you want the sound deadening to be, there are good options for you.
If you want something comparable to Dynamat but a bit cheaper, Second Skin may be the right choice. However, if you want something thicker yet lightweight, the most popular alternative is Noico. Don't forget Siless, which is similar to Dynamat, but the cheapest per square feet.
Keep in mind that Dynamat is unique with its patent Vector chemistry technology, which is why it's the most expensive at $5 per square foot. Its technology allows it to block out the most sound while enhancing stereo sound in your vehicle.
Even though Dynamat is the leader, alternatives exist that can be almost as good, providing the automotive sound deadening you always wanted.
*Last updated 2023-09-23 at 17:23 / Product Links & Images from Amazon Product Advertising API